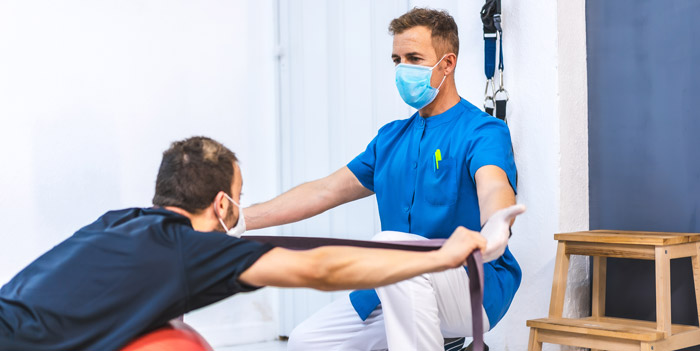 We want to thank all of our clients and staff for their support and trust since closing the doors at the end of March. Never in the past 26 years have we faced such challenging times and we are truly grateful you continued to see us on – line. The doors may have been closed but we continued to be "open" for virtual appointments and urgent or emergent cases in person.
We have very successfully completed over 800 video consultations over the past 8 weeks and this continues to be the preferred method of initial evaluation and treatment where possible. According to our current college guidelines, IN PERSON services should only proceed if the benefit outweighs the risk to you and your therapist. Therefore, all patients will be offered screening online prior to booking an in-person session.
For those who do need to see us in person, please read the following carefully and remember that things may change based on information coming from our regulatory body.
Coming in to Physiotherapy will look a little different than before… Here are some things you can expect:
SCREENING
All patients will be screened over the phone and again before entering the clinic. EVERY TIME
All staff are screened prior to their shifts
All paperwork and billing will be completed electronically where possible to minimize time spent in clinic and reduce touch points
ENHANCED CLEANING AND DISINFECTION
All patients and staff are required to use hand sanitizer prior to entering the clinic
In addition to our already rigorous cleaning and disinfection procedures, we are fully sanitizing all touch points in the office multiple times a day
We have medical grade disinfectant and hand sanitizer placed throughout the clinic
All patient areas are fully disinfected between clients. As such, we have left time in the schedule for cleaning between clients
The clinic will undergo a thorough cleaning each day
PERSONAL PROTECTIVE EQUIPMENT
We are adhering to all PPE recommendations by provincial public health authorities and professional regulatory bodies. Patients and therapists are required to wear masks during all appointments. We politely ask all clients to bring their own mask to physiotherapy. Plexiglass screens have been installed at the front desk.
PHYSICAL DISTANCING
We ask that you attend your appointment on time – if you are early, please wait in your car until the appointed time
We have significantly reduced the number of clients that can attend the clinic at any one time in order to maintain distancing. Patient appointment times have been staggered and physiotherapist schedules have been adjusted to minimize contact between staff members.
In clinic appointments will last approx 30 min and as always an emphasis will be placed on self-treatment and home exercises. Where possible we may suggest a hybrid model of care where some of your follow up appointments will be done via video consultation.
Let's connect and talk about your options!
Contact Us
Book an Appointment Online